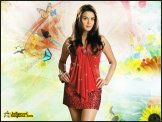 Download image as wallpaper
Preity Zinta's IPL cricket team- Kings XI Punjab (KXIP) may not have made it to the finals of the inaugural IPL, but there is no denying the fact that the bubbly actress gave it her all to cheer her boys, right from the word 'go'. Captained by the flamboyant Yuvraj Singh, KXIP made it to the semis which in itself, is no mean feat.

Now before the second edition of the hugely successful IPL kicks off this year, Preity Zinta already has some special plans to further boost her team's prospects. In an attempt to further develop the game of cricket in the states of Punjab, Haryana, Himachal Pradesh and J&K, Preity's KXIP will hold a cricket seminar as well as a coaching camp in Chandigarh. The aim of this camp is to identify, nurture and groom regional talent in pursuit of excellence for the game. Besides providing a suitable platform for budding cricketers, this camp will also help identify brand 'Kings XI Punjab' with fans and the regional community as a whole.

Apart from the coaching camp, 'KXIP Cup', a T-20 tournament among the teams of the four states is also planned to be conducted at Chandigarh and Mohali from 28th Jan to 02nd Feb'09. The tournament will be conducted in conjunction with the state associations and in particular the Punjab Cricket Academy (PCA). The basic aim of the KXIP cup is not only to recognize genuine talent but also recruit them in the KXIP team and also the PCA. This cup will also be a platform for the states to connect with different communities of the nation.

The matches will be played in a league format among five teams i.e. two from Punjab and one each from the other three states (Haryana, Himachal Pradesh, and Jammu & Kashmir). Every team will comprise of 14 players and two officials. Each team will play the other teams once and the top two teams will qualify for the finals. Hence, a total of 11 matches will be played in the tournament. The matches will be conducted at the PCA Stadium in Mohali and the Cricket Stadium, Sector 16, Chandigarh. The winning team will be given cash prize of Rs.3 lakh while the runner-up team will be given a cash prize of Rs.2 lakh.





Special prizes will also be awarded in following categories:

Man of the Match
Man of the Series
Best Batsman
Best Fielder
Best Catch of the Tournament
Most Promising Player
Fair- play Best Team

Looks like Preity has already started the groundwork for her team KXIP to come out triumphs in this year's IPL.